The holidays are right around the corner, and to be completely honest with you, I'm in a bit of a state of denial. Leeds has been covered from head to toe in Christmas lights for weeks now, the Christmas Market is up and running, and yet I can't seem to wrap my head around the fact that it's almost the end of November.
Needless to say, I haven't started on any of my Christmas shopping. I've barely even thought about it, which can be a bit stressful when you're just not sure what to get for that special someone: the traveller in your life.
To help you avoid being in my situation, and to help you find the perfect gift for your loved ones, I've pulled together a few items that any traveller is sure to love.
Keep reading to discover great gifts for the traveller, wanderluster and jet-setters in your life.
Help the traveller in your life plan their next adventure by gifting them a copy of Lonely Planet's Best in Travel 2017. This book is chock full of beautiful photos, helpful itineraries, and page after page of travel inspiration. Buy now on Amazon.
Step back in time and relive the days of glamourous travel with this collection of beautiful vintage travel posters. Let this wall calendar spark their imagination and take them away to far off places, at least when their in between adventures. Buy now on Amazon.
Be transported around the world with The Way of Wanderlust by legendary travel writer, Don George. Live vicariously and be inspired by his tales from over 40 years of exploring and experiencing the globe. Readers will laugh, they'll cry, and they'll want to book a plane ticket  (or two) immediately. Buy now on Amazon.
Travel Notebook or Journal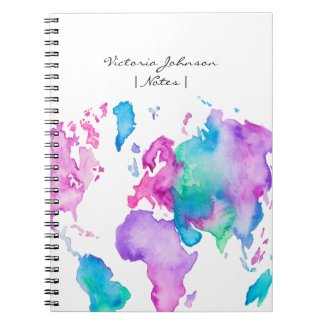 Travellers and wanderlusters are often overflowing with ideas, itineraries, thoughts, feeling and details. So, why not help them keep somewhat organised by gifting them a beautiful notebook, like this modern world map watercolour notebook, where they can jot down anything and everything that comes to mind. Buy now on Zazzle.
Personalised Travel Gear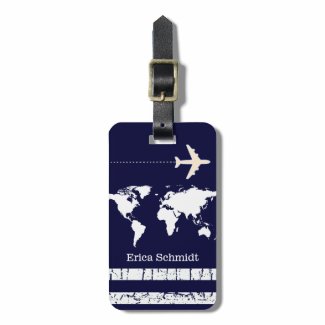 Help that traveller of yours get out of the airport and onto their destination faster by surprising them with a personalised bag tag or travel accessory. Never again will they have to wonder whether or not that bag coming down the conveyor belt is theirs. Less time in the airport means more time for fun, adventures and memories. Buy now on Zazzle, or browse the site for other fantastic, customizable designs.
Travel-themed Flannel PJs
Keep them warm and cosy on their travels (or at home) in these travel-themed PJs. After slipping these on, they'll be dreaming of adventures, far off places and new experiences in no time. Buy now on Amazon.
Custom Picture Frame
Most travellers come home from a trip with hundred of photos, so why not help them show off these great snaps with a custom picture frame. Made right here in Leeds, these fantastic handmade frames are just as unique as your favourite traveller. Buy now from Rustic Boutique.
Ornaments
What better way to showcase their travels and relive those memories than by having them adorn your family Christmas tree. Create your own, or choose from one of the many photos and designs already available on Zazzle.
Buy these ornaments and others on Zazzle: Plane · Icelandic Northern Lights · Barcelona's Parc Guell · Santorini Greece Snowflake Ornament.
So, that's my list? What's on yours?
Save this post for Later
Stay in Touch with Petite Adventures
Please Note: This post contains affiliate links, which means that if you click through and make a purchase, I will receive a small commission. All thoughts, feelings and opinions shared on this blog and in this post are my own.